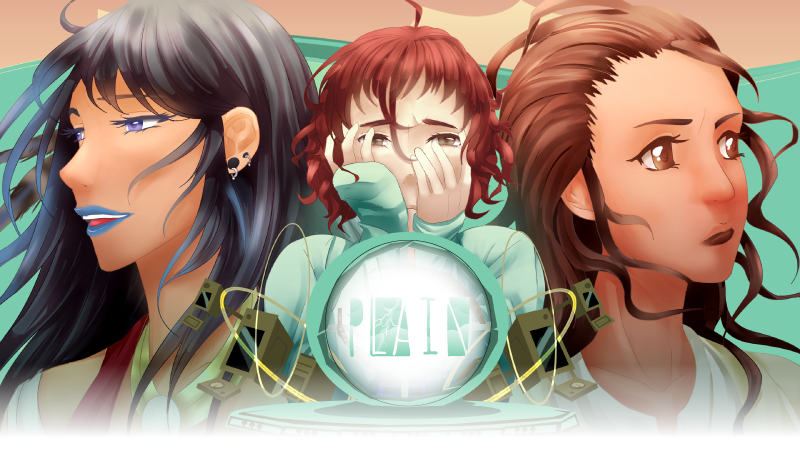 Plain
A downloadable Visual Novel for Windows, macOS, and Linux
Story:

Riley is a completely unremarkable woman, if you were to ask her.
A plane ride towards a job that could change her destiny ends in disaster
when there's a critical engine failure during flight. It would be the end
for Riley too, were it not for a remarkable woman who claims to be
from the year 2165.
Yup, it's a time travel story folks.
Characters:


The protagonist. Riley was a sous chef for years, mistreated and underappreciated in the kitchen. The very day she was going to interview for a position as head chef at a fancy restaurant, she was in a plane crash and died. Or she would have been if she wasn't brought to the future. But in this world, cooking is a dying art, and she's the only one who can revive it. She decides to attempt being a professional chef again in an attempt to prove she can make a significant contribution to society. If she can't, however, the consequences could be far more severe than just having to go back to school.


A historian from the year 2165. Her job is to travel back in time and investigate events that happened in the past without disrupting the future. She's a fun-loving woman who knows what she wants, and isn't afraid to go after it. Finding Riley has made no significant contributions to society, she decides to bring her into the future to allow her a second chance after hitting it off on the plane.


The head historian and a very strict, serious woman. She doesn't appreciate Max's nonsense and if the woman wasn't so good at her job Cecilia would have fired her long ago. She respects confidence and intelligence. Her outwardly frigid demeanor might make it hard for people to get a read on her, but Cecilia isn't afraid to speak her mind and make her thoughts known.
Stats:
Word count: 40,000 words
Rating: 16 + for alcohol use and suggestive themes
Price: Free!
Team:

Head writer: Averxy
Second writer: Minyan
Sprite artist: Minyan
BG artist: Ludeshka
CG artist: pinkllama
GUI artist: Minyan
Programmer:BáiYù
Composer: warmsundae
| | |
| --- | --- |
| Published | 255 days ago |
| Status | Released |
| Platforms | Windows, macOS, Linux |
| Release date | 235 days ago |
| Rating | |
| Author | Fablesoft |
| Tags | Dating Sim, drama, Female Protagonist, LÖVE, Otome, renpy, Romance, Time Travel, Visual Novel, yurijam |
| License | All rights reserved |
| Asset license | All rights reserved |
| Average session | About a half-hour |
| Languages | English |
| Inputs | Keyboard, Mouse |
| Accessibility | Subtitles |
Comments
Log in with your itch.io account to leave a comment.
Do you have any problems or policies regarding Let's Plays? This one in particular would be part of a series, only feature the first 2-3 hours of one route, and link back here.
We're completely fine with Let's Plays! Please do, we'd love to see it, too. :)
This game is awesome and the story is incredibly well crafted.