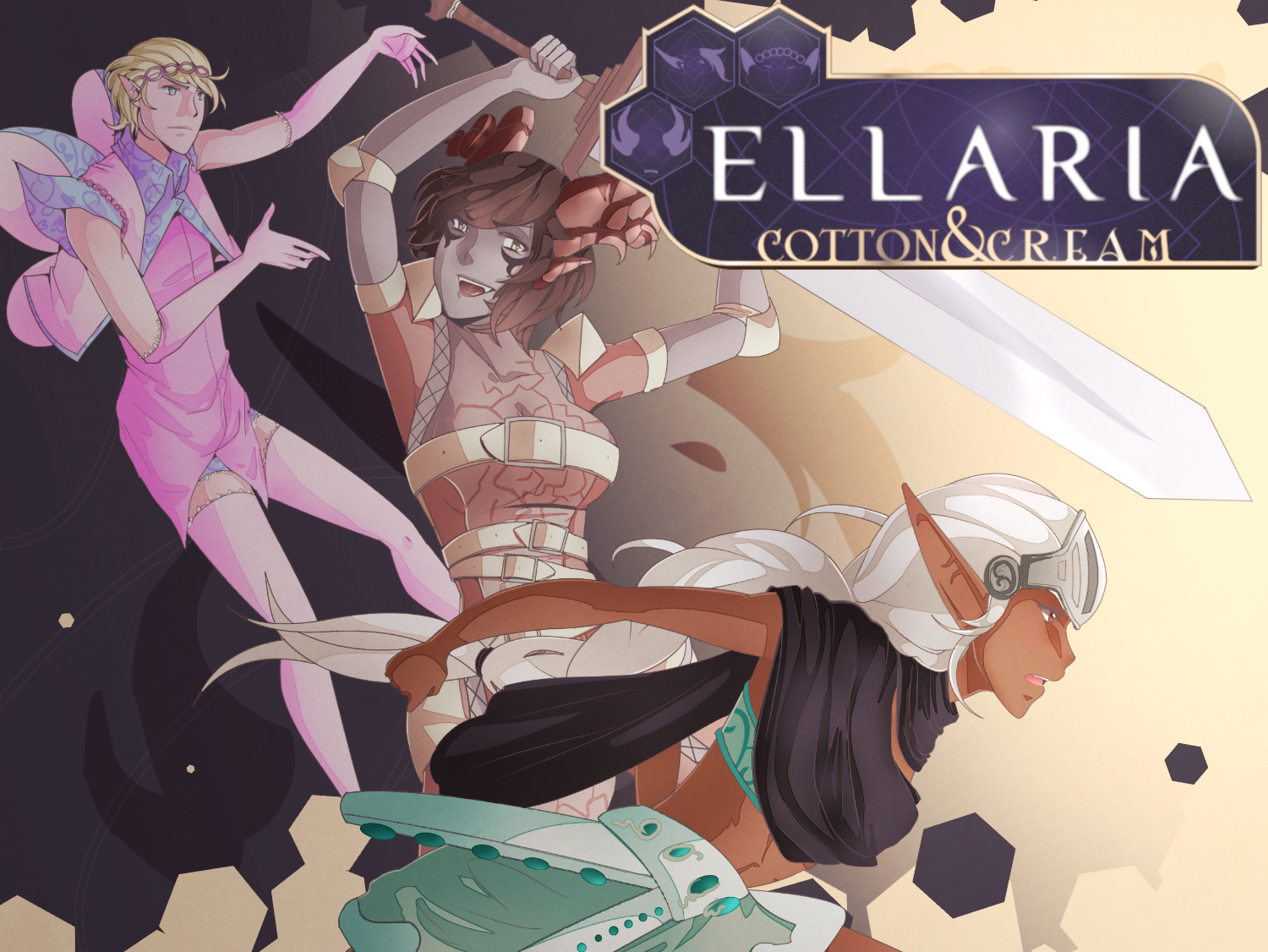 Ellaria: Cotton & Cream
A downloadable game for Windows, macOS, and Linux
Update 5/28: Fixed a bug where the game wouldn't open!

Dive in to the mystical land of Ellaria, where Elves, Fairies,
and Demons rule supreme, and other races are no more than
an afterthought on the authors fingertips. Enjoy a tale of action,
adventure, romance, and a whole lot of snark. Bring your armour
folks, lest you get injured by all the fourth wall breaking.
A comedy romance game for International Love Ultimatum 2: Romantic Boogaloo!
Rated 16 + for blood, violence, language, censored nudity, and suggestive themes

The Characters:

The nameable protagonist, an elf who loves adventure,
and has trained hard to get where she is today as one of Ellaria's
most beloved rangers. She puts on a humble facade for the public,
but loves the attention. Despite their disagreements, there's nothing
she'd rather be doing than travelling the land with her two dear
friends. Even when they really, really get on her nerves.
A mischievous girl who will always prefer getting things done
to sparing people's feelings. Ruthlessly violent in battle ('sour' cream),
but adorable everywhere else ('whipped' cream). She likes to put on a
cool face for her fans. She can seem a little inconsiderate, and abrasive,
especially to those who aren't used to demons and don't now anything
about their culture.
A fairy who, while he has a lot of respect for his culture and
teachings, dislikes the fact that the only type of magic he can do is
healing. His team members insist that's all he needs to do, but he wants
to feel more useful. He doesn't like running straight into danger and
is exasperated every time Cream and Toffee do so. Is nice to pretty
much everyone but his friends.
Your guide through this journey, who isn't afraid to tell you
when you've made a terrible decision.
The plot:
Join Toffee, Cotton and Cream as they valiantly search for the
legendary sword necessary to rescue the princess, who has been
kidnapped by unknown assailants. And so long ago, she's probably
very dead. That won't stop our heroes from boldly going where no
elf, fairy, and demon have gone before. Of course, it's not really
about the spoils. It's about the quest. ...And the spoils. Because
they are quite broke.
The world:
Ellaria is home to eight races in total, but the three with the most
territory are the elves, the fairies, and the demons. While elves keep
mostly to themselves, doing some trade with the fairies, it doesn't take
much to spark a conflict between the demons and fairies. Our heroes
mark the first group of all three main races, and bring hope that the
land may one day be united.
Magic has, from the beginning, been a large part of the world and
how it and many of the races function. There are races that magic comes
naturally to, such as Fairies and Elves, and other races that cannot
master the use of natural magic such as Dwarves and Demons.
The Features:
Pay what you want
Name the main character
59,000 words
Secret content after first play through?!
9 CGs
9 endings
The Team:
Project Manager: Miranda Reeder
Art: Harlevin Studios
Writing: Averxxy
Questions:

Did you enjoy it?

Who was your favorite character?

Favorite part?

Least favorite part?

What parts could be improved?

Would you like to see more games from Fablesoft Studios?

Did you have trouble getting all the endings?
(Moved from Gourmet Visual)
Send any bugs or issues to: FablesoftStudios@gmail.com
Download
Click download now to get access to the following files: